Jury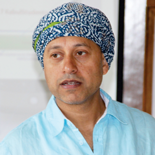 Osama Manzar | Digital Empowerment Foundation (DEF)
Osama Manzar is a convert social entrepreneur spearheading the mission to overcome the information barrier between India's rural sector, and the so-called developed society, through Digital Empowerment Foundation (DEF) – the not-for-profit organization founded to accomplish the mission. He is a Member, Working Group, Internet Governance Forum of Ministry of Communication & IT and was a Member, Task Force on Growth of IT, ITES & Electronics HW Manufacturing Industry, Ministry of Comm & IT, India.
[kml_flashembed publishmethod="static" fversion="8.0.0″ movie="http://mbillionth.in/wp-content/uploads/2012/05/Jury20121.swf" width="600″ height="950″ targetclass="flashmovie" wmode="transparent"] [/kml_flashembed]
mBillionth South Asia Award Grand Jury meet in Kathmandu

mBillionth South Asia Grand Jury held on 17–19, May 2012 at Kathmandu, Nepal. mBillionth Award Grand Jury is one of the most crucial milestone in entire mBillionth Award Process, which is one the most coveted award at South Asia level. The Award is not just an award but an ecosystem for the entire mobile and telecom fraternity where the stakeholders are the mobile entrepreneurs, mobile industry, telcos, investors, etc. The Award is aimed to invite, identify the best mobile and telecom innovations across Asia, especially those whose initiatives have been instrumental in connecting and enabling the masses.
The mBillionth Award jury is a three tier process where the entries go through rigorous review and filtering, it then goes through parameter and secondary research based evaluation and then it finally goes through diverse qualitative and quantitative discussion and voting by about 20 jurors who spend about three days to implement the jury process.
mBillionth South Asia Award Jury panel is mix of telecom experts, entrepreneurs, market experts, mentors, consultants, active journalists & writers on Telecom Developments from 8 South Asian countries. The experts were from PIR. ORG, Vodafone, Comviva, Ford foundation, ICTA- Sri Lanka, ISOC, Bill & Melinda Gates Foundation, Vodafone India foundation, D.Net- Bangladesh, CAN- Nepal, Mobile Monday, Mint etc.
The mBillionth Award South Asia Grand Jury 2012
May 17th – 19th, 2012
Kathmandu, Nepal
Glimpses of mBillionth 2012 Jury (
more
)
[kml_flashembed publishmethod="static" fversion="8.0.0″ movie="http://mbillionth.in/wp-content/uploads/2012/06/JuryGallery.swf" width="630″ height="150″ targetclass="flashmovie"]
[/kml_flashembed]